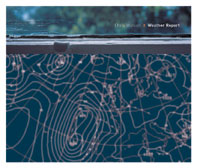 This CD was one of the albums of the year in The Wire (UK), 2003

The Guardian (UK):

Chris Watson's Weather Report (Touch) comprises three 18-minute collages assembled from recordings of the natural world. Watson, once a member of Cabaret Voltaire, is highly regarded as a sound recording specialist, with a track record that includes many of David Attenborough's TV series and several documentaries for BBC Radio 4. The recordings on this disc were made in Kenya, Scotland and on an Iceland glacier. There are low creaking sounds, atmospherics, wind, and sections that sound a little like barely vibrating wires. Birdsong and other animal noises are heard through the general ambience, but rarely in the foreground. Watson's disc is less like "music" that Rose's [the previously reviewed CD - ed.], but has a calmness and improvised pace that makes it more repeatable that the latter's scraping and clanging... [John L. Walters]

bigchill.net (UK):

Killer ambient album from the third of Cabaret Voltaire who became a specialist in field recordings. That's lions, rivers and Icelandic glaciers to you and me, recorded with immaculate clarity for hours and hours on end and then edited into 18-minute minute sonic odysseys. Slowly, steadily, they reveal the beatless music of the natural world, wrapping the listener in the a profound sense of austere beauty. Light years away from 'sounds of the rainforest' bollocks, this is truly amazing stuff for those who have the late night listening habits necessary to absorb it. [Freddie Baveystock]

allmusic.com (web):

It took five years for sound recordist extraordinaire Chris Watson to come up with a follow-up to the 1998 CD Outside the Circle of Fire. Weather Report was worth the wait. Again, Watson delivers a platter of amazing sounds. He is not a field recording purist, but he doesn't turn his prime materials into abstract sound art either. His nature recordings are left untouched, but he selects, blends and edits the sounds together to form aural storylines of great beauty and immediacy. Plus, his recording skills put you right where he wants you to be. In Ol-Olool-O that would be in the Kenyan savannah. A lion's roar opens this 18-minute reduction of a 14-hour recording of nature playing by its own rules. The Lapaich takes place from September to December in a Scottish highland glen (again seamlessly reduced to 18 minutes). Rain is the predominant sound, but there is a lot more going on, including a number of cows [red deer - ed.] saluting the recordist. Vatnajökull the third and last piece, proposes another very different setting: an Icelandic glacier in the middle of the Norwegian Sea. The crackling of the natural ship (it really sounds like a huge boat made of wood planks), wind and the songs of seagulls form the core of the soundscape. Each different sound becomes a new character in these three stories, a character you may grow attached to. Index points mark out chapters, moments where the action is interrupted and resumes at a later point, from another perspective. In certain moments, you wonder if Watson is not playing God -- come on, he did make rain fall at this precise moment, right? Weather Report is totally absorbing and one of the best listening experiences to be had in the art of field recording. [François Couture]

in-press(Australia):

Once a member of English punk funk outfit Cabaret Voltaire and the equally different Hafler Trio, Chris Watson has more recently carved out a career as a freelance field recordist, with his work appearing on television, film and radio. Apparently he even boasts a couple of David Attenborough docos. Weather Report is his third release for the Touch label, a label renowned for the work of the likes of Fennesz, Oren Ambarchi and Phillip Jeck. Unlike these artists however, Watson's palette is the natural world and unlike the work of Francisco Lopez and co, Watson indulges in no electronic manipulation and makes no attempts to remove the sounds from their context. Whilst he has previously quite neatly recorded everything from the sounds of a lion to a whale in quiet isolation, on Weather Report Watson has set his sights a little wider. Using a system of time compression he has reduced 14 hours to 18 minutes, on the first track recorded in Kenya's Masi Mara in October 2002. Wild game, birds, humans, bugs, hungry sounding carnivores and a rainstorm all make an appearance, and the sounds are immediate and awe inspiring, telling an audio story about this specific place at this particular time. The second piece, also 18 minutes, features the sounds of a Scottish Highland Glen from September to December, beginning with the sound of rain, footsteps seemingly stepping through a creek and a dull roar, later incorporating chattering of birds and a pounding gale. This piece is so vivid that you almost want to rug up in front of an open fire to listen. The third piece again comes from a cold environment, the creaks, groans and deep low rumbling of an Icelandic glacier. The sounds here, an enduring bass heavy groan, coupled with a strange cracking are unbelievably eerie, though also perhaps also the most likely to be mistaken for processed avant garde electronics, in much the same way Alan Lamb's wind on decommissioned powerlines apes a frosty night of sound manipulation at the Punters Club. This is no babbling brook and though the experience is no less vivid, how you respond is much less defined. [Bob Baker Fish]

Phosphor (The Netherlands):

After Chris Watson's involvement in Cabaret Voltaire and his involvement in Hafler Trio with Andrew McKenzie, both quite a long time ago he started to make sound recordings for David Attenborough's TV series and several documentaries for BBC Radio 4 and got a reputation as being a specialist in field recordings. Both his previous albums for Touch, Outside the circle of Fire (1998) and Stepping into the Dark (1996) confirmed his excellent skills as an intrepid documenter of wildlife. With Weather Report he focuses on the bigger picture, not just animals but the places in which they reside, which means a lot of weather phenomena have been included. Another aspect is that he now constructs collages of sounds and natural changes over time, though always based upon the specific location. Weather Report is 54 minuts long and devided in three equal parts. The first part entitled Ol-Olool-O treats Kenya's Masai Mara exotic environment. In this cinematic sound setting one notices that a tropical shower of rain starts to dominate the landscape. Insects chirp and large mammals bellow in the arid heat as the thunder and promise of rain causes their frantic excitement to grow. In the middle of this heavy weather a pour animal starts to whine, as if being killed. The clarity of the recording is so fine that feels pity for it. The weather improves and the atmosphere changes with it, slowly returning to the original situation. The second track called The Lapaich shows us what the Scottish highland can sound like in the autumn and winter. Of course there is a heavy wind and the geese that have something to say about it. One can hear some water splashing, more water sounds and the complaining cows [red deer - ed.] . Unfortunately it's not a fluid story, like during the first track. Vatnajökull, sounding like a drone piece is the darkest track on this album. The wind blowing in a microphone gives this recording a mysterious aspect. The majestic dark craking is ominous and omnipresent. This 10,000 year climatic journey of ice formed deep within this Icelandic glacier and its lingering flow into the Norwegian Sea has been translated in deep organic bassscapes and a magical deep, low, muffled roar-like the sound. At the end of the track there is also the complaining of the seagulls and the squeaks of some other birds plus the wind noises and the heavy sounds of water. This wonderful album encourages us to really listen and makes us realize that there are so many beautiful sounds out there. Chris Watson discovered and recorded this world we should be aware of ourselves. [Paul Bijlsma]
Aquarius Records (USA):

Oooh. We're super pleased to get this new Chris Watson field recordings album (see note below). He's one of our favorites in the realm of just going out in the world, shutting up, and listening. With really good equipment and recording skills, that is. In the past he's brought us up close and personal with a variety of African wildlife, as well as the fauna of his native England. Now with the perhaps too-obviously titled "Weather Report" he focuses on the bigger picture, not just animals but the places in which they reside, which means a lot of weather phenomena in the mix. There's three long tracks, each providing an aural portrait of a location over time. Kinda like time-lapse film, but the action is not sped up here, just carefully edited together. They're all natural environments, not urban, the first ("Ol-Oloool-O") taking you on a virtual expedition into the wilds of Kenya's Masai Mara, one day in October 2002. The next, "The Lapaich" compresses four months of sound from a Scottish highland glen in the fall and winter. Lastly, "Vatnajokull" closely examines the slow flow of a glacier in Iceland, which sounds like a drone piece from our experimental section. From animals, birds and insects to washes of wind and rain to quiet, creaking ice, this is all pretty darn magical. Newcomers to Watson's work should note that there's no processing of the sound to make it "experimental music", it's a straight-up documentary with no additions or interference (aside from the neccessary edits). Then again, I suppose it is "music" in the John Cage 4'33'' sense. And it's wonderful sound. Amazing, vibrantly real stuff that'll fire your imagination. If you've seen that amazing new documentary movie "Winged Migration" you've got a filmic analogy to the kind of thing Watson captures here. NB. You know, it's a bit embarrassing, but we've never listed this man's releases in our database before, aside from the "Star Switch On" disc of remixes and his contribution to Hazard's "Wind". Whoops! Dunno how that happened, 'cause we're all really big fans of his work. So, at least we can offer a timely review of this, his third proper release on Touch, and perhaps retroactively review his previous efforts "Outside The Circle Of Fire" and "Stepping Into The Dark" on a future list.

BBC (UK):

Those of us with long memories may remember Chris Watson as the third member of the original line-up of Sheffield electronic punk funkers Cabaret Voltaire and later with 'industrial' noise scientists The Hafler Trio. Since then he's got a proper job as a TV and radio sound recordist. Two CDs have presented his wildlife recordings, made in locations that range from the Scottish highlands to the Serengeti and documenting the activities of creatures from whales to deathwatch beetles. Weather Report is slightly different (and in case you were wondering, has nothing to do with Joe Zawinul). Here, Watson documents meterological phenomena, and has for the first time opted to edit his recorded material (or 'time compress' it), ending up with three 18 minute pieces sourced from hours of material. This seems like a big step; though Watson hasn't treated his recordings in any way, this collage process hints at an artistic or editorial intent that wasn't apparent on the earlier records. This is cinema for the ears. Episodes of rain, thunder and wind are rendered in stunning fidelity; headphones and closed eyes are essential. Watson's way with a microphone is nothing short of awe inspiring. Animals, birds and for a brief moment, human sounds flit in and out, seemingly at the mercy of the elements and without an umbrella in sight. A strong sense of narrative, coupled with the extended lengths of these pieces makes for a much more engaging listen than Watson's previous CDs, which despite their extraordinary contents seemed more like BBC sound effects discs than anything else. The third piece presents the sound of Icelandic ice floes cracking and melting. It's hard to imagine that these muted scrapes, cracks, whooshes and soft, ghostly moans are the result of natural processes (there's a very nice kickdrum sound in there that Richard D. James would be proud of), but maybe that's only to be expected in our primarily visual culture. Watson's work argues for the equality of the ear with the eye, and maybe even its supremacy. Listen. [Pete Marsh]

Wreck This Mess (France):

Chris Watson est un chasseur de sons. Un véritable aventurier qui parcourt, tel un ethnologue, les régions reculées de notre planète à la recherche de trésors acoustiques. Cet album est fruit de sa dernière collecte qui l'a mené sur les terres des Massaïs, au Kenya, au fin fond des Highlands, en Écosse, ainsi qu'à Vatnajökull, un glacier perdu à l'extrême nord de la Island. Trois paysages différents qu'il nous restitue, dans leur plénitude respective. Trois ambiances sonores prises sur le vif. Sans fioritures, ni effets. Chris Watson nous fait redécouvrir le pouvoir évocateur du bruit, des bruits naturels. De la savane africaine, nous percevons la chaleur étouffante, le pas mat des bergers sur le sol, les plaintes de leurs bêtes, le grondement des bêtes sauvages qui rodent, le bourdonnement des insectes… Du pays des hautes terres, nous parvient la rumeur de l'automne, puis nous ressentons la rudesse de l'hiver et ses habitants… Enfin, nous éprouvons l'immensité, le vide et le danger du désert glacé qui se traduit par du souffle, des crissements et des explosions sourdes. Issu de la scène industrielle dont il fut l'un des pionniers au sein de Cabaret Voltaire, Chris Watson s'est vu notamment décerné un prix pour ses travaux naturalistes en 2000, lors de l'ARS Electronica Festival à Linz, en Autriche. Outre ses prestations en tant qu'ingénieur du son pour la BBC et des films documentaires, il a également apporté son soutien technique à AER, Biosphere, Fennesz, Hazard, Philip Jeck et Mika Vainio ! Laurent Diouf]

VITAL (The Netherlands):

This is, at long last Chris Watson's third solo CD. Chris, at one point a member of Cabaret Voltaire and then of The Hafler Trio, is these days for his field recording work. His first two solo CDs were straight recordings, with no altering of sounds afterwards. The liner notes documented what was heard and how it was recorded. Very much like his work for Sir David Attenborough and his BBC TV programm 'Life Of...'. Now Chris marks his second step: he composes music using his field recordings. These recordings are from one place, but recorded over varying periods of time and put back in the form of a collage. Each of the three tracks lasts 18 minutes, the conceptualism which eludes me. One piece is with sounds from Africa, one with sounds from Scotland and one from Iceland. This new work is a big step forward for Chris Watson. From the sheer documentation to composing using environmental sound. It's hard to believe, but probably very much true, that no electronics were used in these recordings. Especially in the last piece, 'Vatnajokull', the wind blowing in a microphone and the closely miked sounds have an electronic character, but maybe just has to do with placement of the microphones. This is captivating stuff, which hardly sounds like a collage, ie there is no cut up technique going on, just gradual changes. Maybe his best album so far. (FdW

Stylus Magazine (USA):

Chris Watson is a former member of Cabaret Voltaire and the Hafler Trio and a current field recorder for nature programs (including David Attenborough's "Life of..." BBC series). Oh, and he also releases electronic music. Weather Report is his third full-length work. It consists of three eighteen-minute tracks recorded on location in Kenya, Scotland, and Iceland. The tracks consist entirely field recordings of natural sounds-animals, wind, grass, rain, ice, and water. Importantly, each track was pared down from however many hours of recordings, and the various natural sounds were selected, organized, and compiled to tell a particular story about the places Chris Watson visited. I would be lying if I didn't give away one key point here: the first two tracks, while interesting in their own right, did not hold my attention. The Kenya track had-what else?-animal noises. The Scottish track? Perhaps rain, storms, wind? You got it. Ah, but the Iceland track-that's the one. It was recorded in and around the massive glacier Vatnajökull, which covers 8% of the surface of Iceland. To me, this track is mesmerizing. Then again, I'm a little biased. You see, I've been there. In the summer of 1984, I spent two months living with a family in Akureyri, Iceland. Akureyri is located in the north of the island, at the mouth of a massive fjord. During the summer, however, I went with my "family" to the south of the island, to stay with another family at their farm near Vatnajökull. This area is on the south edge of the island. There's a huge inlet pool that is made up in part of the Atlantic Ocean and in part from the runoff from the glacier itself. This runoff, in fact, has created the signature image of the glacier-towering cliffs of ice all clumped together as if it were created to be an ideal photo-op. If you've ever seen the beginning of the James Bond film, A View to a Kill, you'll recognize these ice formations as the one Bond skis over while being pursued by Russians (or whoever the villains are in that damn film). It's an amazing place in a country full of amazing places. So I had this image of Vatnajökull in my mind as I started listening to this album. I was expecting to hear waves, wind, drops of water, a few puffins chirping away, perhaps even some crashing sounds as ice falls into the sea. However, that wasn't anywhere close to what I actually heard. More than anything else, Watson's "Vatnajökull" is dominated by a deep, low, muffled roar-like the sound of an underground river that is close enough to the surface that it is audible but not visible. Amidst this roar are a variety of sounds whose origins can only be imagined: creaking, whooshing, dripping, roaring, gurgling, huffing, and crashing noises that seem to gurgle into life and sputter away, retaining an ever-present mystery. There were even some whistling sounds that seemed to be straight out of one of the worlds in Myst. And, while, there do appear a swarm of bird chirps towards the end of the track, along with a smattering of wind noises and even what I think were seal wails, I have to admit that my first impression was of wonder. It's truly an eerie track, if only because the sounds-all natural, unedited sounds-seem so, well, so unnatural. And so the track fascinates me, if only because Watson managed to turn one of the more memorable experiences in my life into something that I not only struggle to recognize but something that is so fundamentally alien sounding that it seems to emerge from some alternate universe, a universe of enclosed spaces and impending doom. I know my impression of this album is shaped by my own personal experience, experiences no one else can possibly understand. Hence, my attempts to be objective about this album are destined to fail. But what I can take away from this work-and what I hope you, too, can appreciate-is simply the realization that the world sounds a hell of a lot different than it looks, and when an artist takes away all visual signals and forces audiences to listen and only to listen to a particular place, then we can hear things we'd never see in a thousand visits to the same location. I've been to Vatnajökull, but I never really heard it until I heard this album. [Michael Heumann]

Dusted (USA):

Keeping an Ear to the Ground
One can't glance at Chris Watson's discography cursorily - at least not without avoiding a perplexed double take. As the founding member of the late-70s Sheffield trio Cabaret Voltaire, Watson experimented with a very modern, very vanguard, and - by extension - very urban palette of proto-punk/industrial noise. CV's mix of guitar, electronics, and tape loop splicing was nothing if not rigorously structured and texturally dense. Then, following his stint in Cabaret Voltaire (and later the Hafler Trio), Watson abandoned the music industry entirely to work as a field recordist for wildlife documentaries, creating soundtracks and solo releases from unadulterated recordings that he'd captured at remote locations around the world. Although these projects are, in obvious ways, radically different from his Sheffield experiments, Watson's close attention to the texture and sonority of sound has never wavered, whether dealing with treated electronics or the flapping of feathered wings. Weather Report, Watson's third full-length effort on Touch, extends his evolving fascination with environmental sounds by way of three eighteen-minute pieces recorded in Kenya, Scotland, and Iceland.

Inherent in Weather Report's unique documentation of an exotic "reality" is a key paradox: the majesty of nature is all around - capturing it in a snapshot (or field recording) on the one hand seems deceptively simple, requiring merely the snap of a shutter or the click of a recording device. In truth, however, this type of documentation requires some form of fixed subjectivity, some compression of nature's scope into a palatable essence, some authorial emphasis on a sound or image we might otherwise miss. The more effortless and self-effacing this subjective presence is made to seem, the more difficult it is to render. Which is why, for example, in Jacques Perrin's new film "Winged Migration," an 85-minute documentary about the migration of birds, 250 miles of film had to be shot, using motorized aircraft, gliders, hot air balloons, and helicopter-lifted cameras that were operated by 14 cinematographers in 42 countries over a duration of four years. Or why, in the 1970s, Robert Smithson required numerous cranes, bulldozers, and helicopters to create and document Earth Art pieces like Spiral Jetty (1970) and Amirillo Ramp (1973). This paradox of natural, or "real" art is the paradox of nature itself - its materials are inescapable and at the same time inaccessible, both too large and too small to ever get our eyes, ears, hands, or minds around.

On each of his solo records, Watson combats this paradox in a similar manner as Perrin and Smithson: with technological prowess and human persistence. 1996's Stepping Into the Dark, for example, cabled tiny, ultrasensitive microphones over great distances to capture the chirps and croaks of insects, frogs, and bats. 1998's Outside the Circle of Fire used omnidirectional microphones buried deep inside a zebra carcass to capture the otherwise inaccessible sounds of vultures feeding on raw flesh. With Weather Report, Watson has this time opted not to share the intricate and highly technical details of his recording set-up, but the results attest to its complexity. In fact, Weather Report presents new challenges, because with it Watson sets out to capture the essence of his three locations as they shift over time in response to natural changes. Thus in order to communicate the gradual crescendo of animal and insect excitement as a storm rolls across Kenya's Masai Mara, or the shifting rumble of water in a Scottish highland glen through autumn and into winter, Watson uses his authorial hand more forcefully, editing his material for purposes of dynamics and compression. For this reason the results are less "objective," but the increased focus on temporal changes makes for what are often even richer compositions.

"Ol-Olool-O" compresses the fourteen-hour drama of a thunderstorm into a tightly packed eighteen minutes. Insects chirp and large mammals bellow in the arid heat as the rumble of wind and promise of rain causes their frantic excitement to grow. As the rain starts to trickle and pour amidst the panting and whining of some large, unknown beast, the clarity of the recording is so fine that, at the storm's climax, one can discern the luxurious detail of droplets splattering onto the hard clay, and then slowly seeping into the dampening, spongy earth. Throughout, Watson is highly skilled at enabling the mind to move effortlessly between place and abstraction - at any moment one can click into the imagined specifics of an African rainstorm, or out again, to a wholly abstract collage of textured sounds.

"The Lapaich" mingles the cool, rushing sounds of a highland stream with an increasingly hostile wind and the chatter of birds. Unlike "Ol-Olool-O," Watson seems to move all across the highland glen, so that the changes in composition are more punctuated and less fluid - the rush of water decrescendos into a whisper, a polar wind arises out of silence. The index points left scattered throughout "The Lapaich" are much too abrupt, and while the piece is compelling in small segments, it neglects to offer any kind of consistency that might allow one to get his (imagined) bearings. In this way, it's the weakest of the selections - too forcibly abstract.

The final track, "Vatnajökull," is, however, absolutely awe-inspiring. Described as "the 10,000 year climatic journey of ice formed deep within this Icelandic glacier and its lingering flow into the Norwegian Sea," the deep, bass-rich throbs and creaks of the crumbling ice mass prove breathtaking. I've experienced the sounds of glaciers calving in the flesh, and though the effect is undoubtedly magical - a slow, majestic creaking that seems to possess no set source-point until chunks the size of football fields crash into the sea - the breaks are few and far between, muffled somewhat by one's proximity to the fissure. Watson, on the other hand, seems to record from the very heart of the crevasse, and he captures the singing drone of the wind and the rumbling quake of the ice mass atop a lulling bed of flowing, polar water. "Vatnajökull" possesses a similar delicacy to that which John Luther Adams realized more figuratively in his The Light That Fills the World, only Watson's document is simultaneously massive - a fragile crumble occurring on a giant scale. Eventually the mournful song of birds rises in prominence, and its high pitch contrasts nicely with the deep, enormous creaking occurring beneath the impatient squawks. Here again the punctuation of the index points is distracting, but the glorious might of the sound renders them little more than pesky and easily overlooked annoyances. That Watson has channeled the essence of 10,000 years of climatic processes and countless square miles of melting ice onto a single shiny disc is impressive enough - that, shorn of any tangible bearings these sounds defy description, is sublime.[Nathan Hogan]

de:bug (Germany):

Das Time Out Magazine schrieb vor vier Jahren zu Watsons früherem Album, dass wir unserer Umgebung zuhören sollen, da es interessanter sein könnte als all die Sachen, die wir konsumieren, um ihr zu entkommen. Das scheint auf den ersten Blick zu stimmen, ist natürlich aber blödsinning so was in einer Review zu einem in sich zum Konsum gezwungenen Produkt zu schreiben. Und was anderes liegt uns in Form einer CD nunmal nicht vor. Also flüchten wir doch mit Play vor dem urbanen Chaos vor der Tür. Es startet dreimal 18 Minuten lang, zuerst in Richtung Kenia. 14 zusammenhängende Stunden Originalaufnahmen drängen sich einander, erzählen fleißig und beleuchten die saftigen Tagesgewohnheiten zirpsender Käfer und knurrender Löwen. Auf Track zwei spannen sich sogar vier Monate im Dasein des schottischen Sees Lapaich über den Track. Das soziale Leben spielt sich hier schon wesentlich ruhiger ab, wird aber erst im letzten Teil, Aufnahmen des isländischen Gletschers Vatnajökull, vollends unter Wasser geortet. Das komische Phänomen Wetter (komisch, weil's ja omnipräsent ist), um das es hier geht, ist selbst in purem Audio ständig zur Stelle. Löwen knurren nicht in Nordeuropa und Eis schabt nicht in Afrika. Das wußten wir schon vorher, aber so eindringlich gehört hat das noch keiner von uns. www.touchmusic.org.uk [ed *****]

www.ambientrance.com:

An international sonic journalist rather than a local temperature predictor, Chris Watson imbues his Weather Report with ear-travelogues from afar. A trio of lengthy audio- documentaries reveals the otherworldliness of our own planet

The three 18-minute pieces play like a free-flowing sound-effects record, though the liner notes propose two or three "track breaks" per segment. Under a continual heat-evoking insect haze, Ol-Olool-O (boiled-down from a 14 hour recording in Kenya) hovers across a truly wild soundscape of bellowing animals, chattering natives, broiling weather and more... the leisurely (though always edgy) panoramic sprawl is occasionally interrupted by the growls of threatening lions, crazy jackasses(?), or something being mauled?!?. Birds of various feathers also make guest appearances, from lilting chirps to mournful cries. A low grumble swiftly enlarges to a raging torrent to announce the global jump to The Laibach, where four months (September through December) were spent gathering the auditory essences of a Scottish highland glen. Watery flows abound as do a multitude of avian and insect cheepers... until whipsnaking winter winds unleash with awesome force, gradually softening into a drizzling, still-quite-inhabited expanse (as evidenced by animalistic yowls and scurries). A final shift lands in even colder (in degrees and mood!) climes... from Iceland, hauntingly beautiful Vatnajökull immerses into a vastly groaning ice cavern where phantasmal currents linger, warbling like ghostly flutes. Even the wildlife is a bit creepy here, emitting unknowable communications into the rumbling atmospheres. Agitated gull squawks and a splashing ocean bring the 54:13 disc to its conclusion. Nature's own "world music" is injected with enough surprises to keep it from being very "ambient"! So expertly-captured, Weather Report seems almost academic, like a listen-only National Geographic. If nothing else, Chris Watson's work will remind you of the omnipresence of birdlife! Especially organic!

Bad Alchemy (Germany):

Der Field- und BBC-Soundrecorder Watson gibt hier erstmals seinen Dokupurismus auf und collagiert aus O-Tönen drei je 18-minütige Alltags-'Dramen', die das jeweils spezifische Klangprofil eines Ortes und seiner Bewohner einfangen. Bei 'Ol-Olool-O' konstruiert der einstige Cabaret Voltaire-Mann aus den Lauten von Menschen, Tieren und Wetterphänomenen im Zeitraffer einen typischen Tagesablauf im kenianischen Masai Mara so plastisch, dass einem der stinkende Löwenbrodem noch bluttriefend ins Gesicht dampft, ein Gewitterguss den Wohnzimmerboden überschwemmt und die Vögel aufs Sofa scheißen. 'The Lapaich' ist ein die Zeit von September bis Dezember bündelnder herbst-winterlicher Streifzug durchs schottische Hochland, gleichzeitig Travelogue und Stimmungsbild. Mit 'Vatnajökull' schließlich versucht Watson die knarrende Langsamkeit zu suggerieren, mit der sich Gletscher über 10000 Jahre über die norwegische Küste schieben. In minuziöser Prägnanz macht er dabei die 'Vielstimmigkeit' der Natur hörbar als ein Cinema pour l'oreille, das mit subjektiver 'Kamera' das Bewusstsein durch konkrete environmentale Szenerien und gleichzeitig durch einen fiktiven Zeitraum streifen lässt. Wie hat Watsons Kollege Frere-Jones so schön gesagt: Der Welt zuzuhören kann spannender sein als das Zeug, das man kauft, um aus ihr zu fliehen.

Blow Up (Italy):
Al suo terzo album su Touch dopo "Stepping into the Dark" e "Outside the Circle of Fire", Watson esplora eventi atmosferici, sensazioni tattili e sonore di tre destine locations, che insieme pero danno vita ad un unico flusso sonoro di certo fascino. Dal Kenya dei Masai di Ol-Olool-O, agli altopiani scozzesi nel passaggio dell'autunno all'inverno di The Laipach, per finire tra i ghiacciai Islandesi di Vatnajokull. Watson da autentico antroplogo del suono, lascia che il suono sia, che penetri con la forza degli elemnti naturali ovunque presenti. [Gino Dal Soler]

Matiere Brut (France):

Après avoir sévi dans Cabaret Voltaire et The Hafler Trio, Chris Watson s'est peu à peu détaché de la scène industrielle pour évoluer comme ingénieur du son et travailler télévision et la radio anglaise. Weather Report est son troisième album sous son propre nom, après Stepping into the Dark (1996) et Outside the circle of fire (1998), tous sortis chez Touch. Si dans ses précédents disques, Chris Watson nous livrait ses enregistrements de terrains de façon brute, son approche a été bien différente pour Weather Report puisqu'il s'est attaché à composer trois pièces à partir de sons qu'il a enregistré dans des endroits précis à diverses périodes. Ainsi, il nous transporte sucessivement au Kenya, dans les highlands écossais et au coeur d'un glacier islandais. Le tout est superbement mis en valeur par des évolutions minutieuses, les prises de son révèlent une beauté captivante proche de la perfection, nous faisant plonger dans des mondes inconnus pourtant si réels. Magnifique. [Yann Hascoet]

XLR8R (USA):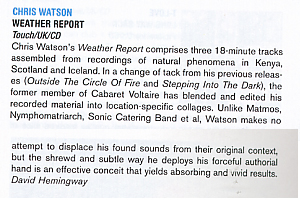 and from Poland...




Time Out, New York, Jan 14-21 1999

Sasha Frere-Jones writes:

Here's a riddle: How was one of the best electro-acoustic albums of the year not made? Chris Watson's Outside the Circle of Fire is credited to one author, but the sounds within were made by animals and natural phenomena (wind, water, etc.). As the liner notes state, these sounds exist whether we hear them or not. This idea is a powerful tonic in a time of instant access, when lots of people spend their lives making and selling products that exist only because someone might buy them. And, certainly, Watson's CD was made (and made to be bought), but the incredible sounds on it are doubled in significance when we, the Mighty Consumers, remember that an entire world lives noisily on, whether or not we hear, see or buy it.

What does it all sound like? Remarkably, like the most up-to-date electronic music. The lead-off 'track', a recording of an adult cheetah resting by a baobab tree, sounds like a fudgy old analog synth rumbling away, something you might pay to hear Add N to X approximate with apprehended modern drumbeats. (Note to up-and-coming gear fetishists: Look into cheetahs to improve lacklustre stage show.) Track six, a recording of a 'massed knot roost', is an explosion of bird wings and cries that equals Merzbow for sheer assault value. Mellifluous minimalist techno? Please check the unidentified pair of birds and their two-note song on track 14: You'll swear it was - hold on - music. Much of this is is as captivating, deliberate and textured as any music. Just something else to think about while the death-watch beetles do their thing inside an 'advertising display within oak beam'.

Watson, long ago a member of Cabaret Voltaire, has gone to incredible lengths to record these sounds with an array of complicated microphones and tape machines, but his message is simple: Listen to your world. It may be more interesting than all the things you buy to escape from it.

Feature in The Wire, October 1998:

Chris Watson

Recording angel

To those with an interest in the recondite backwaters of contemporary experimental music, Chris Watson is a crucial, yet shadowy figure. His work with the earliest incarnation of Cabaret Voltaire provides ample justification for his inclusion among a small number of luminaries who have worked to expand the horizons of what is possible in music. Watson's post-Cabs work might be less celebrated, but its importance and radical nature should not be underestimated. With The Hafler Trio, especially on recordings such as Bang: An Open Letter, Watson revealed himself as an inspired documentarist of the sounds of the natural world, in addition to maintaining his earlier obsession with analysing the electronic media landscape.

After a lengthy hiatus from the recording industry, during which he worked for the Royal Society for the Protection of Birds, and as a sound recordist on nature documentaries (including Sir David Attenborough's forthcoming BBC opus, Life Of Birds), Watson returned with a magnificent CD: Stepping Into The Dark (Touch, 1996). His stated aim was to record the "remarkable and particular characteristics" of specific locations. Watson drew inspiration from the imaginative and unorthodox Cambridge archaeologist, TC Lethbridge, whose concern with the occult in relation to topography is echoed in Watson's work. The same sense of attempting to capture the genius loci is evident. Watson warms to the subject: "I wanted to capture the atmosphere of some 'special places' in sound, and then try to recreate that sense of place when listening back. I have experienced the individual character of places as I believe many people have, whether that is of a house, trail, mountain or forest. Some of these places appear to have a spirit, and the sound of that place is a way to connect. Over recent years, when travelling, I realised that many people have made that association and it can have a powerful effect."

His most recent release, Outside The Circle Of Fire, while still evincing this interest in topographical sound mapping, focuses primarily on animals in their natural habitat. Watson is an assiduous and intrepid documenter of wildlife: a cheetah resting, a whale surfacing, the song of a starling are all presented here among a plethora of other fascinating sounds. His work, however, is completely free of New Age flakiness. These recordings are by turns powerful, disturbing, illuminating; but never twee. Watson attempts to record in "noise-free" situations; locations free from the turmoil that constantly assaults our senses. "I am fascinated by the sounds within different environments," he says. "Many of the 'noise-free' locations I work in have a musicality which is enhanced by the selective process of producing them on a CD. My definition of noise does not vary between locations; it is basically unwanted sound."

Recalling an early Cabaret Voltaire interview in which Watson mentioned his predilection for Gilbert White's zoological treatise The Natural History Of Selborne, I wondered if he saw specific parallels between his work and that of White. "I always enjoy reading Gilbert White's letters," he replies, "and I am inspired by his enthusiasm and curiosity. However, my close-up recordings of animal sounds are a brief exploration of that animal without trying to explain animal language. It is only in the detail that we can hear and enjoy some of these sounds. Elements are revealed that display a beauty and eloquence in communicating that are well described in White's work."

Given that Watson's recordings are not interfered with or processed in any musical sense, his creativity must reside in his selection of sound sources. The notion of discovering and delineating the numinous in the commonplace, of encouraging people to listen to the music within their environment in a Cagean sense, seems to be Watson's primary goal. Artists such as Max Eastley and Michael Prime seem apposite reference points in terms of shared ambition, although their working methods are very different. All three seek to use natural sounds to expand definitions of what is musically acceptable, while also demonstrating a salutary concern with environmental issues.

Chris Watson seems to be fundamentally concerned with enriching our auditory sense, by making us aware of the sounds which we ignore to our own detriment. His dislike of noise pollution makes this clear: "Noise pollution concerns me. All my work on the two CDs avoids man-made sounds. However, there are very few places in Britain where it is possible to make sound recordings without traffic or aircraft noise. There are very few places where we can really listen."

This is the true value of Watson's work: it encourages us to really listen. His fascination with the sounds he records is infectious in the best possible way. His enthusiasm is transmitted to the listener in such a manner that quotidian sounds take on a new and special quality.

JOHN EVERALL Outside The Circle Of Fire is out now on Touch

The Wire, November 1998:

Play a few seconds of nearly any track on Outside the Circle of Fire and it sounds like the freakiest techno disc ever. Take the third one: against a backdrop of near silence, it alternates a semi-regular bouncing ball click, a little scraping alien chirrup and an occasional flurry of rapidfire low end rushes. It's got the kind of rhythmic invention Squarepusher or Aphex Twin would be proud to lay claim to.

But when you look at the title - "Male Capercaillie Display" - you realise that this is, in fact, as unplugged a disc as they come. Watson has recorded 22 breeds of animals and insects in the wild. Brought into attack range by Watson's close mic technique, hearing them is a startling experience.

Watson's last disc, Stepping into the Dark, was all about sound environments and dense textures, this one zeros in on specific creatures for their astounding timbre and rhythm. What's surprising is that track after track is a killer by musical standards. Check out the incredible tone of hippos wading out of the river. Those two birds in the Costa Rican rain forest are natural born duet partners. What amp does the cheetah resting by the baobab tree use? Are those male corncrakes signed to Warp or Säkho? Watson's gone to some serious lengths to capture this stuff on tape, and he's come up with sounds that most humans never get to hear. Endlessly fascinating and often alarming, Circle of Fire reveals new directions for man-made music. (Douglas Wolk)

VITAL, The Netherlands:

Well, prepare yourself for a series of very intimate aural encounters which can only have been recorded by someone with the patience of a Zennist. A couple of representative tracks appeared on the last Touch sampler, and compared to these recordings were just scant clues as to what was to follow. I was completely absorbed by the quality and closeness of the sounds documented here - I suspect that it is impossible for humans to hear many of these sounds without first having shapeshifted. When I was a younger child, I had the opportunity of getting very close to a group of semi-domesticated cheetahs on the estate of the Hulett family, sugar-magnates who lived amongst their cane in Natal, South Africa. I'll never forget the sign on the gate which must have kept any potential burglars well and truly at bay: 'Warning ! Cheetahs!' Simple. but highly effective. Even the baboons, not known for their literary skills, dared to trespass here. Something else that made an indelible impression beside this sign and the smell of these magnificent creatures, was the sounds they made. The first track on this CD throbs out of the loudspeakers - it's a satisfied cheetah purring in the noon sun - and it sounds as if it is laying on top of you, secure in the knowledge that dinner can be served anytime it chooses. One of the longer tracks on this CD is of a male capercallie display in a Caledonian pine forest. The liner notes draw attention to the infrasonic content of the bird's wing flutters. In yer face. There are chortling hippopotami, swarming knot conferring before winging off on migration, chattering spider monkeys and the rhythmic scrapes of male corncrakes advertising their availability - complex arrangements are produced by their desire to outshout each other. Then there's the 'macro' recording made from within the carcass of a zebra (no, hand-held mics were not used !) which is a document of the thoughts of errant flies, the faint and fleeting memories of rotting meat and the antagonistic, possessive skirl of descending vultures. Watson takes natural surveillance to obsessive extremes, using microphone triangulation to localise a nightjar in the darkness and record it. Kittiwakes scold and chastise each other from their nests on a cliff face. The wings of a wood-pigeon chop the air into fat waves. Sleeping elephants, their heavy breathing reassuring in the squeaking moonlight. Deathwatch beetles run up and down the rafters in an English cottage bedroom. An owl calls outside, this lonely sound hovers in an otherwise almost silent night. Similarly the isolated sound of a hyena calling out co-ordinates to it's hunting companions invokes similar feeling of loneliness, and perhaps, genetic memories within us all. (MP)

Top Magazine (Tower Records UK):

In a previous life, field recordist Chris Watson was an important part of Sheffield combo Cabaret Voltaire, where his electronic and tape manipulations played a vital role in their seminal urban back beat. Seventeen years later Watson is out in the African bush, shoving his microphone into the rib cage of a zebra carcass to record the sound of vultures pulling it apart. 'Dry Viscera' is only one of the many aural delights to be enjoyed on Outside the Circle of Fire (Touch) *****. Hyenas howl, hippos laugh, a cheetah purrs and kittiwakes transform into the souls of dead children on Watson's remarkable safari of sounds.

Calmant, Lithuania:

The purr of a leopard close up against a baobab tree, waiting. Whales surfacing, breathing in cold air. Coll starling imitate the noise of farm machinery from the hollow ring of a ruined bothy. The rattle of wood over a black stream...

CHRIS WATSON is trying to penetrate into human-free and primeval world where animals, birds and insects are the only substance able to identify itself with own sound. This compact disc is a collection of 22 sonic documents where the most part of them was recorded using various equipment and technologies in rain forests of Secretum finis Africae. The world of intimate fauna beautiful to listen to and stare at, all but Terra Incognita for western destructive civilization. Handle with care this brilliant documentary from Touch. (sic) 10/10

Peter, Asphodel (USA):

"It is very rare that I get off my duff and post a review.

Chris Watson: Outside the circle of Fire ( Touch TO:37 )

I am completely enthralled by this new Touch release, though given the absolutely top top notch quality of their catalog, I am certainly not suprised.

Watson ( Hafler Trio collaborator and for those of you with a memory that predates 1990, Cabaret Voltaire collaborator ) brings us more than an earful of field recordings. These are not your typical field recordings, though, but more of a field recording meets electroacoustic adventure. The CD contains some 22 recordings done all over the world but mainly in Africa and the UK. What makes this CD stand universes above your typical field recording work is the precise, almost clinical recording devices and methods employed to make this work. Recording credits and a gear list accompany the CD. Sounds you may know from the animal kingdom are represented back to us, as if in another sonic dimension. You should understand this when you hear it.

liners:

"These are the sounds of secret languages, particular events that have been recorded as close up as possible to try and reveal something of their individual beauty, rythmn, eleoquence and sheer power. Several of the sounds would be inaudible or radically degraded more than a few metres from the animal. Yet others collectively use the acoustics of their habitat to modulate the message. They exist, however, whether we hear them or not-close up details of signals that are beyond our reach outside the circle of fire."

Revue et Corrigé (France):

"Enregistrer un son, c'est en faire le détournement. C'est donner à entendre un objet qui est tel qu'il semble faire référence à autre que lui." (Lionel Marchetti, "La musique concrète de Michel Chion") Ancien partenaire de Cabaret Voltaire et d'Hafler Trio, Chris WATSON nous offre avec "Outside the circle of fire" un disque de sons magnifique. Ses sources, listées en détail, sont clairement présentées et aucune dissimulées. Toutes proviennent du monde animal : du guépard au Zimbabwe aux oiseaux d'Ecosse en passant par les singes du Costa Rica ou les vautours du Kenya. Mais bien loin d'une anthologie du monde sonore animal façon chasseurs de sons ou 30 millions d'amis, Chris WATSON nous donne à entendre un monde inconnu, une autre réalité permise par la machine à enregistrer (micro + bande, dat ou minidisc). Le micro est au plus proche de l'animal, dans sa plus stricte intimité, violant presque son espace privé et livre à nos oreilles un agrandissement d'une réalité sonore présupposée. Ainsi avons-nous au final 22 séquences de durées et d'origines variables, d'une plastique et d'une poétique fortes aux images-poids (Michel Chion, "Le son") marquées, et dont l'équivalent visuel serait un gros-plan fixe. Comme le label Touch l'a déjà fait dans la compilation "Touch Sampler 3", il est bon de juxtaposer ses séquences à des musiques électroniques actuelles. Les confrontations sont surprenantes. "On peut se demander qui de l'homme ou de la nature est musicien ?" (Pierre Schaeffer, conférence, 1960). Jérôme NOETINGER

Last Sigh (.net):

" Chris Watson was a founding member of Cabaret Voltaire and The Hafler Trio -- two projects whose influence on the experimental/electronic music scene can hardly be overestimated. Both projects were -- at least early on -- intensely concerned with the nature and possibilities of sound, and strove to create music that utilized, and focussed on these possibilities rather than on melody, rhythm or any other traditional compositional conventions. At first listen, Watson's new CD of wildlife recordings would thus seem to be quite a dramatical departure from his past sound/music projects. Yet, as in the past, the obsession here is with sound -- attaining the perfect recording of the various animals.

Each of the 22 tracks/recordings on Outside The Circle Of Fire are accompanied by notes and anecdotes outlining the equipment utilized, and the approach taken, in each separate recording situation. These notes complete each of the tracks, and at the same time paint a nice portrait of Watson at his work. There is something very moving about this English gentleman moving his infant twin sons out of his bedroom in the middle of the night, and setting up his equipment to record the ruminations of Deathwatch beetles inside a roof beam; or, rigging a series of microphones inside the rib cage of a dead Zebra, and waiting for the vultures to descend upon it; or, floating in an small open boat for hours on end, with his microphone attached at the end of a pole, patiently waiting for a Southern Right Whale to surface for air. In listening to the CD while reading these notes, the recordings cease to be merely masterful sound observations of animals, and Chris Watson the artist emerges.

The results of Watson's meticulous efforts are nothing short of amazing. Each recording has a genuineness and immediacy that on several occasions made our two yorkshire terriers start from their sleep and let loose at full throat. In fact, to appreciate these recordings, all one need to really do is turn to the Discovery channel on TV, and compare them to the rather artificial and post-synchronized soundtracks of most nature documentaries.

This CD is certainly not the answer to the cravings of those wishing to hear some new and exciting unconventional music a la Cabaret Voltaire or The Hafler Trio. However, for those who hold that a musician is no less an artist than an author or a painter, this CD by Watson is a highly interesting glance at the artist's sketchbook, an essay on sound, or perhaps, something like an autobiography. " (Michael Lund)

Resonance (UK):

...unusual things done with microphones...Watson's record is a kind of anti-new-age field recording which, instead of using natural sounds to create an audio Radox bath (full of natural essences), hurls you into the centre of nature at its most enigmatic and terrifying. Kicking off with the sound of a cheetah purring (a lovely deep rumble) he presents us with monkeys, birds, whales (don't groan) and at one point the horrifying sound of nine vultures feeding off a zebra carcass (recorded from within the carcass). Recorded with astounding precision (recording is his day job after all) and packaged with the kind of care and attention to detail we've come to expect from Touch, this is an indispensable document from a leading experimental label. (Richard Sanderson)

Art Zero (France):

N'avez-vous jamais voulu être à l'intérieur de la carcasse d'un zèbre alors qu'une douzaine de vautours la dévorent ? Approcher un guépard endormi et mettre votre oreille à quelques centimètres de son ronflement? Vous allonger par terre dans une forêt tropicale pour écouter les insectes mystérieux sous les feuilles ? Avec "Outside the Circle of Fire" de Chris Watson vos vÏux seront exaucés. Album extraordinaire d'enregistrements faits partout dans le monde, il faut souligner ˜ contrairement à ce que disait The Wire que ceci n'est nullement à écouter comme de la techno expérimentale (même si Watson faisait partie du groupe Cabaret Voltaire à une époque) mais un voyage sonore merveilleux, fortement conseillé.

Your Flesh (USA):

Chris Watson has presented 22 tracks of meticulously recorded animal sounds. From the low, rumbling purr of a resting adult cheetah, to the rhythmic pulsing song of the corncrake (a bird nesting on the western isles of Scotland) to the belches of hippos, Watson has assembled a series of sounds that offer not only a new listening experience, but also a bit of insight into a world which most people aren't exposed to. His liner notes mention a "secret language" which may or may not be scientifically accurate. This CD provides the listener with an aural glimpse of an entire sound world that is not only beyond our experience but even our cognizance. It's not some kind of feel good, commune with the animals vibe either, just a gateway into the world of sound few of us would experience otherwise. As a collection of pure sounds or biological insight, thisis worth listening to. (Bruce Adams)

Side-Line (Belgium):

Chris Watson was previously member of Cabaret Voltaire and this release is his second cd on the UK label Touch that follows Stepping into the Dark. With this release it seems obvious that he hasn't stopped with research and innovation. Using high quality equipment he recorded life sounds of animals, insects or birds. This results in a very surprising series of sequences that will set you right at the centre of what is happening. You are given the possibility to listen to the sounds produced by cheetahs, whales, hippos, lions, vultures, elephants, all these are very evocative and some imagination is also needed to really 'live' this release. A very interesting release that I recommend to specialists of that kind or works (sic). DS:7/10)

City Newspaper (USA):

A collection of field recordings from around the world focussing explicity on assorted animals and insects. Between the clinical, rasping phrases of territorial male corncrakes or 'laughing' hippopotami at dusk, Outside the Circle could almost be the freakiest all-natural techno disc ever. The sounds of secret languages masterfully recorded with full documentation in the liner notes.

gg (USA):

Tape-splicing avant-gardist-turned-sound collector Chris Watson has spent his post-Cabaret Voltaire/post-Hafler Trio years circling the globe˜high-output microphones at the ready˜on a very private quest for the secret languages of the natural kingdom. Using the audio equivalent of a telephoto zoom lens, Watson gets so close to his subjects that you can feel the stiff white hairs on the cheetah's chest rising and falling with each reposeful breath and taste the salty spume of surfacing whales. The confusion of flocking masses of birds and the nervous urgency of hungry spider monkeys is so in-focus that it becomes your own. As vultures crowd at the carcass of a zebra, cawing gluttonously between beakfuls of flyblown flesh, the sweet-sick stench of decay seems to flood the room, out of place and time, intensifying in queasy waves as bluebottles buzz faintly in the distance. A red deer stag steps to the forest's edge in Scotland, and his virile bellow is suffused with the animal tang of musk. While some may experience a sense of kinship with the 'circle of life' and the brotherhood of the living and breathing, I'm struck instead by the utter non-humanness of these sounds. Our distant Darwinian brothers and sisters these animals may be, but the hippopotamus' comical grunts, the songs of starlings, tinkerbirds, corncrakes, and other rara avis, and the defiant growl of a domineering lioness are formed by throats so unlike ours that they may as well be alien. If the titular Circle of Fire represents the cramped world of tool-using, opposable-thumbed, Prometheus-favored Homo sapiens sapiens, then the array of natural sounds here (presented, as ever, as "unsweetened" and unadulterated documentary events) serves to remind us of the vast wildness that contains it. Which only makes the colicky-infant cries of cliff-dwelling kittiwakes, the contented snores of a sleeping elephant family, and the chitinous, finger-tapping fumbles of deathwatch beetles˜sounds so far removed from our world, yet uncannily suggestive of its familiar trappings˜all the more provocative. Outside The Circle Of Fire is as much about the natural environments in which Watson first encountered these creatures as it is about their fascinating noises. Elemental echoes pervade every track, and Watson's microphones are just as sensitive to the windy gusts, parched earth, leaf-littered forest floors, and peninsular waters that define the mis-en-scène and provide the subconscious cues for these captured voices.








NoiseGate (UK):



"Watson's lead instrument is the tape recorder. After working with Cabaret Voltaire and The Hafler Trio, he became sound recordist for The Royal Society for the Protection of Birds, he has since joined a film and video production company, working for BBC wildlife documentaries. The 13 recordings on Stepping into the Dark contrast a windswept forest in Glen Cannich with the gathering conversations of rooks roosting in a churchyard in Northumberland. Other atmospheres include the heat and wall of sound found on the river Mara in Kenya, fishing bats on a mangrove pool in Venezuela, the ritual dance of snipe at dusk in the North Hebrides, a hydrophone at 5m depth in the Moray Firth captures the signature whistles and clicks of bottlenose dolphins. Very good."

CMJ (USA):


"Chris Watson made these extraordinary recordings by concealing microphones (so they wouldn/t be noticed by local fauna) in various outdoor locations around the world, from Scotland to Venezuela to Germany, then rolling the tape and capturing the sound of the particular place and time. That's 'sound' not 'ambiance' - rather than being "soothing sounds of the surf"-type stuff, they're dense with noises (swarms of flies, croaking birds, bowl-you-over winds). You have to listen to them actively. As an aid to that, they average about four minutes apiece, or roughly the length of a pop song. In fact, listening to them a few times, you start to hear each track that way: as a collection of textures (incessantly croaking frogs) and "riffs" (an evening chorus of snipe), of unique events (the deep hum of insects buzzing by the microphone) and thematic development (the slow, symphonic crescendo of a Costa Rican forest as it awakens at daybreak). The highlight is a pair of recordings of the Maasai Mara river in Kenya: one slow and fluttery at 6:15 am, one hot and thick with noise at 9:30 pm, when Watson feared a hippo attack." (Douglas Wolk)

Wired (UK):


"Taking ambient to its logical conclusion is Chris Watson, whose Stepping into the Dark (Touch) is a collection of recordings of places. Hear birdsong, cicadas, sea and wind. Absolutely no fill-in synth washes or new-age cheesery whatsoever. Music with the music taken out - radical!"

The Wire (UK):


"Chris Watson's Stepping into the Dark makes a collection of environmental recordings positively eventful by comparison (ed.: to Dark Continent). This is a kind of National Geographic supersession: the siskins and song thrushes of the Kielder Forest trade licks with the fishing boats of Venezuela, while the dolphins of the Moray Firth seem like they're auditioning for back-up roles on the next Björk album. It's easy to scoff like this, but the purple prosody of the liner notes does give rise to the feeling that Mother Nature is just another musical virtuoso, all ready to tune up and howl "Let's rock" for the likes of Watson and those who buy his records (and there must be buyers). But fair's fair: Watson's recordings of the River Mara in Kenya by night are of a sonic intensity that beggar's belief, and his tape of the change in environment with the sunrise in a Costa Rican rainforest is little short of poetic. Of its kind, then, this is a decent (if a tad overlong) disc, comparable with Alan Lamb's telegraph-wire recordings on Dorobo. But next time, Chris - give those rhesus monkeys some solo space in the mix." (Paul Stump)

On (UK):


"Armed with a tape recorder and a history that includes a stint as sound recordist for the Royal Society for Protection of Birds, Watson delivers eleven scapes from around the world - from Kielderside to Kenya - in a triumph of recording techniques that veers sharply away from any kind of new age relaxation agenda. The rooks roosting in the churchyard at Embleton, Northumberland are as in-yer-face as any hardstep and the heat and wall of sound in Kenya is startling in its own way too. If you're too busy to escape Islington or canna afford to quit Balham, book a sonic away-day with Chris Watson. Vibin!" (Wild Weazel)

Magic Feet (UK):


"As Jello Biafra of the Dead Kennedys once said, "Relax, everything is done for you." How seriously you take all this Virtual Reality Cyber Culture stuff is largely down to how much you've allowed yourself to be duped by it. Meshing neatly with the Western preference for stored over immediate experience, Chris Watson has delivered an album of field recordings from Europe, Africa and South America. So you get a cacophony of rooks from a remote Northumberland graveyard, dolphins communicating under the Moray Firth and the rising hum of a Costa Rican jungle at dawn. Sure enough, there are patterns and cyclical loops to be followed just like any music. It's all very tastefully done, from the packaging to the genuinely enthusiastic sleeve notes emphasising that this is a truly candid aural view of nature which manages to "avoid background noise, human disturbance and editing". But surely the whole point about nature is that it just is, and is there for the dwindling numbers of humans not tied to a VDU screen to just go out and drink in first hand. Maybe its a touch paranoid, but its not too difficult to imagine families of the future sat around sound machines in air-conditioned rooms using recordings such as this to learn about nature. Maybe Chris Watson could enjoy no greater punch line for his work than such a scenario. Or maybe we should all literally get out more." (Andy McCall-Smith)

ECLECTRICITY (UK):


"A BBC sound recordist and previously a collaborator with Andrew M. McKenzie in the Hafler Trio, Watson has assembled some favourite fragments of international environment recordings on this CD. Not only do they convey a sense of place, hinting at the physicality of different terrain, but contain emotional echoes of shared experiences. The electrical hum of insects, bird calls awakening the forest of Bosque Seco in Costa Rico, reminded me of dragonflies low over the water of a quiet lake one Scandinavian summer, an experience I'd long forgotten. Seasonal dates and times are included with beautiful photographs in a booklet, together with precise latitude and longitude measurements for those eager to take the adventure themselves." (DKH)

EST (UK):



"After leaving Cabaret Voltaire and the Hafler Trio, Chris Watson found work as a sound-recordist, working for example for the Royal Society for the Protection of Birds. I'm pleased to see that his belated return to the "music" industry isn't with a music album, but with a collection of location recordings, covering the wilds of Britain (Cumbria, Scotland, Northumberland) and overseas (Germany, Venezuela, Costa Rica, Kenya). Watson suggests that these recordings are not simply documentary, but concerned with capturing the intangible spirit of each location. Clear recording and a total absence of human sounds invite meditation, but it's also interesting to try and divine any musical qualities in the birdsong or dolphin clicks that occur. There's an integrity to Watson's straightforward approach that just about sets Stepping into the Dark apart from "Forest Moods" type location- sound recordings, and which ensures I'll be listening to it again." BD

Alternative Press (US):



"French conceptual artist Marcel Duchamp once predicted that the artist of the future would point at what already exists and it would become art. Many sound artists have taken a philosophically similar outlook, using found sound, plagiarism and media manipulation. Former Hafler Trio and Cabaret Voltaire collaborator Chris Watson takes a different approach to this aesthetic, preferring to let the world around us do its own talking.

Stepping is an engaging collection of field recordings made at exotic locales while Watson was doing location sound for various documentaries. He presents a rich variety of environments ranging from flies near the Mara River in Kenya, to nesting rooks in an old churchyard, to fishing bats in Venezuela.

Animals and the elements take center stage throughout the disc. It seems strange to have any human's name on the sleeve at all. Watson has wisely chosen to leave these sounds raw and realistic, making this about as close as most of us will get to a world tour. Use your ears and drift. (Touch; dist. by Dutch East) - Joseph Cross"

Also check out A Fault in the Nothing, which contains an unreleased track of his wildlife recordings, and ditto Touch. sampler and Touch Sampler 3