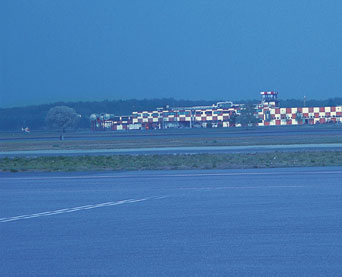 VITAL (The Netherlands):

Well, here's a CD after my own heart. So much so, it inspired me to whip out my qwerty board and beat out a review in syncopated time. A compilation of tracks by person from an icy place, Benny J. Nilsen, recorded during his recent whirlwind worldwide Touch tour of well, of a few places he had to take a plane to get to. My modifiers segue nicely into the first track 'Substation', a mirage of another form of transport (a train) that spreads the bass port wide to allow one of Mr Nilsen's remixes of Chris Watson's wind recordings (see Touch) to whistle and rip it's fury. Nice one! Winds calmed, the laptop insects wind themselves up in typical plug-in display. 'Old Lead Mine' (a couple of moody Sylvian-like track titles here) cranks and clanks down into big space and softness. 'Windmill' (and the rest actually) made me quite nostalgic old timbre in a new coat, or something like that. I found myself back in the early days of ambience, when the word was fresh and considerably more precise and the drugs the same.Almost-melodies, no foreign bodies, arabesque harmonics, corners rounded. spinal trip, gone By the way, I didn't check to see if any of these tracks are off earlier releases (Touch, too), but why should I? This is great the way it is! (MP)

Phosphor (The Netherlands):

Benny J. Nilsen, born in Nykping Sweden in the mid seventies and now living in Stockholm, founded Hazard in 1996 after he stopped with his project Morthond. Nilsen was influenced by the early tape movements and its effects on humans, field recordings and the perception of time and space. The Baltimore based label Malignant released a very dark Hazard album in 1997 and due to that album and a few releases ("Wind", "Wood c/w Bridge/Field" and "North") on Ash International Hazard gained an enormous reputation among fans of ambient-industrial. His new album entitled "Land" is based on the live works from a Touch 2001 tour with Fennesz and Biosphere. The 11.18 minutes long openings track entitled "Substraction" seems to be the combination of extreem deep bass echos in a tunnel and a freezing polar wind (recorded by Chris Watson) Listening to it makes you feel cold shivers running among your spine. A few moments later manipulated laptop insects wind themselves up in typical plug-in display. As soon as the insects disappear Hazard takes you to one of his dark deep endless worlds in which emptiness is the only growing entity. It's all very pure and sophisticated, pieceful and frightfully beautiful.

All Music Guide (USA):

In 2001-2002, B.J. Nilsen toured Europe and Montreal as part of a Touch label showcase which also included Fennesz and Biosphere. During these concerts he continued to play with Chris Watson's wind recordings, the base material for his 2001 CD Wind, released under his moniker Hazard. Land organizes excerpts from these performances into a suite that works like an extension of that fabulous album. It is not "Wind Live" so to speak, even though the music presents strong similarities with its predecessor -- enough to make this album slightly redundant. Wind came this close to masterpiece level. Its depth, artistry and originality ensure it a place in the pandemonium of laptop electronica. Land thins out the gravy. The music is nice, but it lacks the organic atmospheres of Wind. The set begins with the 11-minute "Substation," by far the best moment on the album, not only because electronic processing happens entirely outside the listener's ears, but also for its drama. Recordings of a subway train are turned into gigantic ocean waves in a wind storm. The first glitches and tones usually associated with laptop Improv surface one minute into the second track, "Church." From then on, the music gradually moves away from the environmental recordings and closer to Hazard's typical ambient electronica. Take this CD as an addendum -- and most of all get Wind first. [FC]

? (Spain):

It's hard to say when one deals with minimalist boundaries like the ones I'm stepping on, but I would dare to say that Land is maybe more direct and focused than the prior editions of the project. So far seemed the more oppressive components of his darkest ages since the apparition of North; but even that said, listening to this I would say it has been a continuous evolution from a point of no return, as I have to insist in the more fluid, more dynamic quality of Land; when compared with its precedents, what makes me think it is unequivocally related to the live origin and goal of the compositions included here. A clear example can be found in the first cut, Substation playing with the recording of a train in a tunnel and the wind. So as I was trying to explain, lots of its sonorities may be easily recognizable; or well, more or less, don't take me wrong, of course all of these have been conveniently arranged for the occasion. But that value creates an especially unfiltered, purest, in one precise word, organic sensation, although we all know all the unjustified abuse this term has suffered in scenes such as Dark Ambient, etc. lately. And I even would say that I can find some passages more influenced by more melodic or at least easily listenable viewpoints, like in Windmill or Kissing Gate: firstly because an advised listener can deal with the work and assimilate it without as many attempts as other prior Hazard labours permitted, and on the other hand due to the almost total absence of coarse, rough or crunchy textures in the CD except for Church, the second track. Certainly everything seasoned by the Nilsen's coldness trademark and a lovely feel of the stereo panning.
About the artwork, the digipak and aspect of the disc look quite similar to that in Wind, although the cover of Land is pretty eloquent regarding the clash between Nature and technology, the paper and impact that human being has played towards Nature and what can be said from the aesthetics of electronic music. Absolutely distant from the synthetic exclusively laptop experiences of some of his contemporaneous, Mr Nilsen fuses both sides, inside and outside the machine, assuming a more unprocessed feeling that, as I've remarked, probably reaches one of its climax in these less granular last compositions.
Despite the fact of being a live representation, what we have here is in fact a whole new album that, even if it makes easily identifiable the typical Hazard field recording resonances (yes, maybe closer to Wind, not only because of the sonorous material, but because its evident chronological proximity in terms of development), we can say it presents a different Nilsen's facet that as a minimum avoids repetition. After having enjoyed one of his performances at the end of the last year, what one discovers is that, like many other electronic musicians, a show can be as well understood as a different oeuvre in which the artist works the way he can prepare a complete new issue, even if taking elements of the preceding; although I can't avoid pinpointing the brief duration of this one (39 minutes and 38 seconds), what maybe helps at some extent in the referred forceful and more straight side.
In conclusion, Land is again an obligated piece for those in love with the savoir faire of this young experimentalist or a possible introductory piece summing up, simplifying the main factors that have defined the perspective of Hazard. But since six paragraphs would sound simply plain trying to explore its artistic progress and philosophy, if you're still hungry and want to go deeper in what this sonic innovator has provided to the current Experimental scene, a nice chat with the man is waiting for you in our interviews section where, helped by the questions, Benny dissects each of the referred qualities that Hazard, and more precisely Land represent. What can future bring?, which past did bring us to this? Just at two clicks of knowing the answers.

The Wire (UK):

review can be read here

D-Side (France):

review can be read here

Grooves (USA):